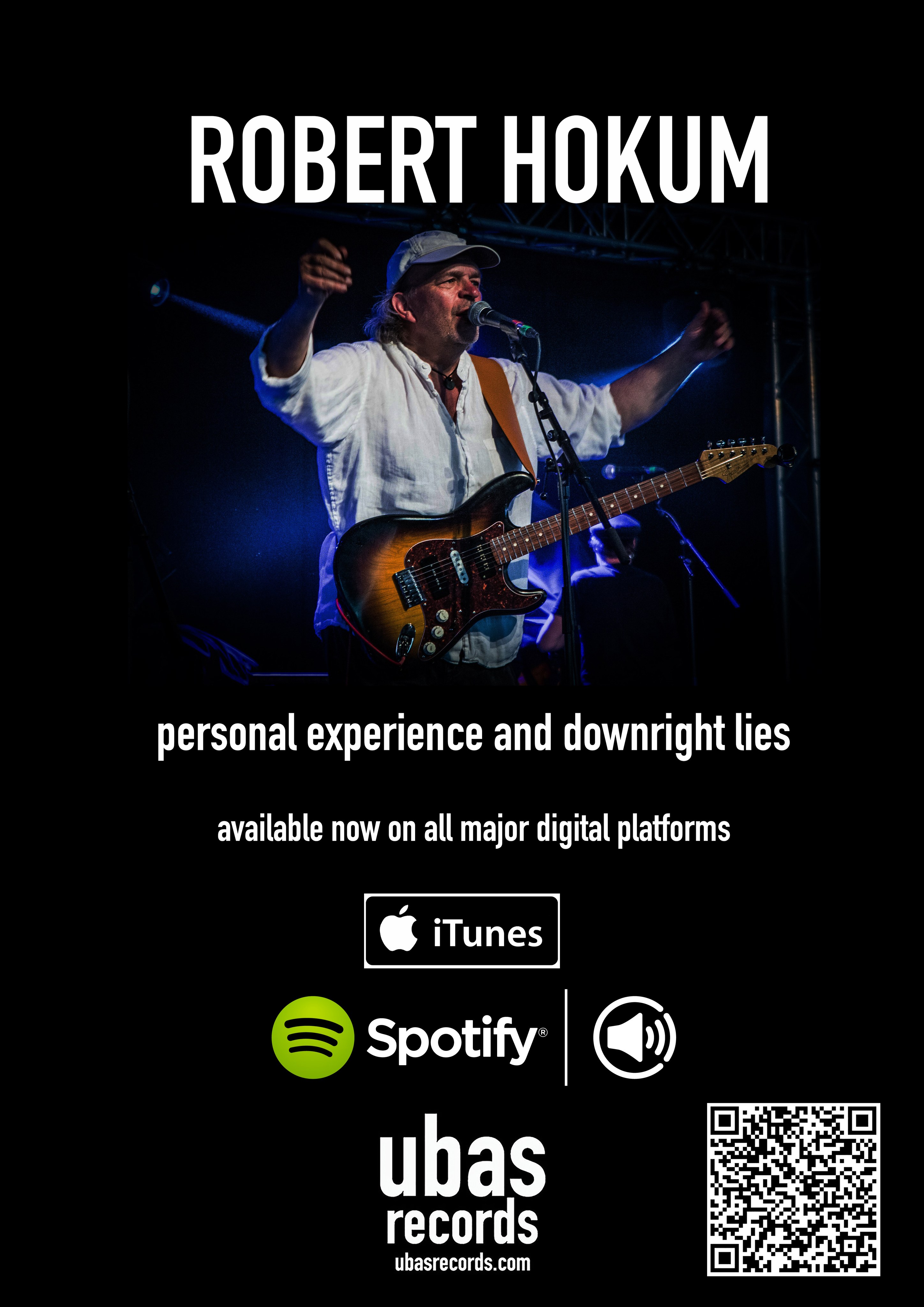 ROBERT HOKUM
Bluesmaster, Funkateer, Global Groover, and Raconteur! Welcome to my website, I've been active on the British Blues scene for some 50 years now. As the purpose of this website is for PR and Promotion, I'll leave out the lengthy biography for some other time and just list the current and more recent things that I've been involved with. So, here goes:
SOUNDS:


*My latest album - PERSONAL EXPERIENCE & DOWNRIGHT LIES - a compilation of original songs from 1989 to 2015. Available on all major streaming platforms. Released June 2023 - scan the QR code above!
The review in August '23 Blues In Britain magazine said, 'A welcome retrospective collection from a largely unsung UK blues stalwart with decades of pedigree action behind him.......... impressive songcraft, great guitar work and warm, rich vocal.'
* 'LIVE IN EALING by ROBERT HOKUM & THE GUV'NORS' - The most listened to album in the Jazz & Blues category on British Airways 'In Flight' 2016/7. Listen to it here: https://soundcloud.com/robert-hokum/sets/live-in-ealing-robert-hokum-the-guvnors
* 'TRIPPIN' BACKWARDS a ROBERT HOKUM 'LIVE' RETROSPECTIVE' - Independent Blues Broadcasters Association album of the month October 2017. Blues Matters said, 'An excellent album it is. Great stuff from beginning to end.' Here's THE GUV'NORS 'live' at Ealing Film Studios in 2007. https://www.youtube.com/watch?v=R4evXT67ugU
* Plus a back catalogue of recordings from the 1970's onwards with: DANGEROUS RHYTHM, THE AMAZING RHYTHM BURGLARS, THE GUV'NORS, THE ROBERT HOKUM BLUES BAND, DORRIS HENDERSON, DEVIL DRIVES, THE GREAT WEST GROOVE and more……

ON SCREEN:

* 'SUBURBAN STEPS TO ROCKLAND - THE STORY OF THE EALING CLUB' (2017) SKY ARTS - featured interviewee, soundtrack contributor and researcher. The founding of the Ealing Blues Club on 17.3.62 is acknowledged as the catalyst for British RockMusic, this film is that story. https://www.62films.com/
* 'ROCK'N'ROLL ISLAND' (2020) BBC4 - featured interviewee. Eel Pie Island was one of the most iconic gigs of the '50s & 60's http://eelpieislandmusic.com/film. The Eel Pie Heritage lives on at The Eel Pie Club at The Cabbage Patch Twickenham. Here's a performance there from 2012. https://www.youtube.com/watchv=gjz6Q6oEclE&t=0s&list=PLB92460E538876653&index=8
* 'THE HANWELL HOOTIE' (2019) London Live - uncredited appearance performing with 'The Hootie Blues All Stars'. Founded in 2013, The Hanwell Hootie is now London's largest free one-day Festival. https://www.youtube.com/watch?v=tTC8NzFC7QM

* 'EELS & PIES & ROCK & ROLL - an oral history of Eel Pie Island' (2017) Together TV - uncredited appearance performing at The Eel Pie Club Cyril Davies Tribute gig. https://www.togethertv.com/eel-pie-island-hotel


'LIVE' - CURRENTLY GIGGING WITH:

* THE GREAT WEST GROOVE - a semi-acoustic band playing old style blues. Here we are at Swanage Blues Festival in 2016: https://www.youtube.com/watch?v=iQfgIh13P4I&list=PLB92460E538876653&index=12&t=0s. https://www.facebook.com/thegreatwestgroove
* THE GREAT WEST GROOVE BIG BAND - a five piece line-up with added keyboards and featuring TWO drummers. https://exposurebox.com/amazing-drum-battle/
* BLUES DHARMA - a trio featuring tabla, and saraswati veena. Is it Blues? - 'Yes', Is it 'Raga' - 'Yes'. https://www.facebook.com/bluesdharma/
* SOLO - It has been said that I'd be prepared to play at the opening of an envelope.

CURATOR OF BLUES-ROCK HERITAGE

* A Director of 'THE EALING CLUB COMMUNITY INTEREST COMPANY' which seeks to build on Ealing's iconic music Heritage to inspire new opportunities for 'live' music. The Ealing Club C.I.C. was responsible for the Heritage Plaque to Alexis Korner & Cyril Davies at the Premises of the former Ealing Blues Club (the Cradle of British Rock Music) and has mounted exhibitions on Ealing's music heritage at Pitzhangar Manor and The University of West London. Also, advised on the Plaque for MARSHALL AMPS in Hanwell. https://www.facebook.com/EalingClub/ https://www.ealingclub.com/
* 2019 CHISWICK BOOK FESTIVAL - Sold-Out talk on 'How West London Rocked The World' at Gunnersbury Museum as promotion for The Ealing Club C.I.C. publication 'The A-Z of Ealing Rock'.
* UK BLUES FEDERATION AWARDS 2022 - 'BLUES UNSUNG HERO AWARD' for my work with The Ealing Club C.I.C. and Ealing Blues Festival.
* A chapter in the book 'ROCK'S DIAMOND YEAR' published bu Aurora Metro 2022 is about my adolescence in the midst of the West London music scene of the 1960s. I also was part of a panel about the book at the 2022 CHISWICK BOOK FESTIVAL.
POLITICAL INFLUENCER (!)

* Invited speaker at The House of Commons for the 'ALL PARTY POLITICAL GROUP for LONDON'S PLANNING and BUILT ENVIRONMENT' on 'HOW DO WE PROTECT MUSIC VENUES FROM CLOSURES'. 17.7.2019.
LIVE MUSIC ADVOCATE

* Artistic Director and Founder of THE EALING BLUES FESTIVAL (established 1987). London's longest running Blues Festival. Here's THE GUV'NORS at the event on 2005 https://www.youtube.com/watch?v=HmDmgyJZFxI https://www.facebook.com/EalingBluesFestival/
* Host musician of THE HANWELL HOOTIE BLUES BAR. Was on the founding Committee of THE HANWELL HOOTIE in 2013 which is now London's biggest one day free Festival. https://www.facebook.com/TheHanwellHootie/
* Consultant to SWANAGE BLUES FESTIVAL for artists appearing at The Swanage Centre. https://www.facebook.com/swanagebluesfest/

AND SOME OTHER STUFF…..

* The 'one-off' - 'PERSONAL EXPERIENCE and DOWNRIGHT LIES - AN AUDIENCE WITH ROBERT HOKUM' at Ealing's Questor's Theatre in 2017 Sold out!
* In the book, 'FINDING CHEROKEE BROWN' by award winning author SIOBHAN CURHAM, there is a character based on the promoter of The Ealing Blues Festival…. who could that be!
* The multi-cultural BLUES SANS FRONTIERES was the first act to perform at Brecon Cathedral as part of the Brecon Jazz Festival. The concert sold-out. Here's BLUES SANS FRONTIERES at The Bush Hall in 2009.
https://www.youtube.com/watch?v=49IsPm6hdDU
AND A WORD FROM OUR SPONSOR:
'ROBERT HOKUM - 'TRIPPIN' BACKWARDS' - A 'LIVE' RETROSPECTIVE is available from:
THE EALING CLUB website : https://the-ealing-club.myshopify.com/products/robert-hokum-live-retrospective-cd
THE LINKS:
Contact: robert.hokum@tiscali.co.uk
www.facebook.com/robert.hokum
www.youtube.com/roberthokum
www.soundcloud.com/robert-hokum